"Dear Mario: Please come to the castle. I've baked a cake for you. Yours truly -- Princess Toadstool. Peach."
― Princess Peach
Super Mario 64 is a 3D platforming video game created by Nintendo and first released in 1996, and is the first game in the Super Mario series to be releashed with three dimensional graphics. It was considered revolutional for the gaming industry and 3D games following, and is widly considered one of the best video games in history.
Plot
[
]
Princess Peach Toadstool of the Mushroom Kingdom had sent Mario a letter to meet at her castle, having made a cake for him. When the plumber arrived, he discovered King Bowser and his Koopa Troop had taken over the castle, stole all of the Power Stars and sealed them away in different levels locatied inside the castle's paintings. He then sealed the castle off, inmprisoning the Toads and the princess inside. Mario soon set off to collect the stars from the different stages, starting with Bob-omb Battlefield. As he collected more stars, more areas in the castle become available for him to access. Eventually, Mario defeated Bowser, whom he previously fought twice in his quest, in battle at the Koopa King's sky castle and released Peach from her seal in the stained-glass window above the castle's enterance. To celebrate, Peach went to make a new cake for Mario.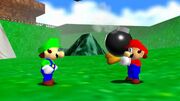 Super Mario 64 serves as the primary gaming engine used for Super Mario 64 Machinima and series such as Super Mario 64 Bloopers, being the main game used for filming and its namesake. Early machinimas usually where filmed with basic gameplay, along with cheat codes and palette swaps of the Mario model being used. Over time, texture hacks, custom models, greenscreens and different games became common for use by machinimists.